COVID
Relief
Efforts in our first 1.5 years were geared towards fighting the pandemic.
During the first two waves of the pandemic, we were able to deliver deep impact across the country by working collaboratively with the public, private, and non-profit sectors. Having realised the urgency of going beyond COVID relief, Swasth is now focussed on building public digital infrastructure and driving collaborative research that will enable India to deliver Universal Health Coverage to her citizens.
WAVE 1
The pandemic's first wave prompted the formation of Swasth, out of the efforts of a group of volunteer leaders from across the health and technology ecosystem. From April to December 2020, Swasth was able to help state and local health systems scale rapidly by allowing them to plug into existing private telemedicine capacity for providing home monitoring and management for covid patients.
TELECONSULTATION PLATFORM
Swasth began by tackling the issue of access to quality care by setting up a teleconsultation gateway, coupled with the providers and with end-user apps
260,000+
Patients from over 500+ cities & towns served directly
3.6/4
Average Doctor Rating
260,000+
Patients from over 500+ cities & towns served directly
REMOTE MONITORING
Swasth developed and operated a pro-bono remote monitoring digital platform for Home Isolation, which was powered by established homecare providers like Portea, Healthcare at Home, and Apollo among others.
100,000+
Patients serviced pan-India
Clinical Decision Support Protocols designed by top doctors
top doctors
Daily virtual check-ins by
medical professionals
Chosen by the Government of Karnataka to deploy state-wide
home isolation services
100,000+
Patients serviced pan-India
Clinical Decision Support Protocols designed by top doctors
top doctors
POWERED BY
Medical Product Council
Dr. N Jairam . Pankaj Sahni . Dr. Deepika Saraf . Dilip Jose . Dr. Ashish Atreja . Dr. Ayesha Nazneen . Dr. Sudarshan . Dr. S Murali . Vikram Thaploo .
Tech Product Council
Abhinav Lal . Ajit Narayanan . Gaurav Agarwal . Shamik Sharma .
PARTNERS

WAVE 2
The second wave of the COVID-19 crisis put extreme strain on India's medical infrastructure. At Swasth, we worked with our Alliance members and our team of volunteers to bring people the resources they needed to battle the pandemic. We aimed to create systems where patients can care for themselves with ease at home, and thereby reduce the patient-care load on hospitals and clinics. We also worked diligently to provide oxygen concentrators to patients - be it in major cities, or in remote parts of the country.
OXYGEN FOR EVERYONE
Swasth was able to significantly scale the effort to co-lead India's largest private oxygenation effort, providing critical relief to health facilities in over 500 districts pan-India. We procured and deployed
42,790
Oxygen Concentrators
42,790
Oxygen Concentrators
COMMUNITY SCIENCE ALLIANCE
Swasth Community Science Alliance(CSA) was set up as a partnership of community-based organisations, frontline clinicians, and scientists from India and the Indian diaspora to develop a community of practice committed to advancing evidence-based COVID-19 care, contextualised to rural India. We partnered with the Lakshmi Mittal & Family South Asia Institute at Harvard University to convene clinical updates for doctors. CSA-created content is being used by Piramal, Labournet and Mahan Trust to train 30,000+ last-mile responders.
COVID-19 CARE ASSIST BOT
In collaboration with the eGov Foundation, Swasth created a triage bot called Sakhi for tracking, monitoring and management of mild COVID-19 cases and a service bot to connect customers and suppliers of medical devices. The base infrastructure of the triage bot was adopted and customised by the state of Punjab and Nagaland's Mon district as the standard protocol for home isolation.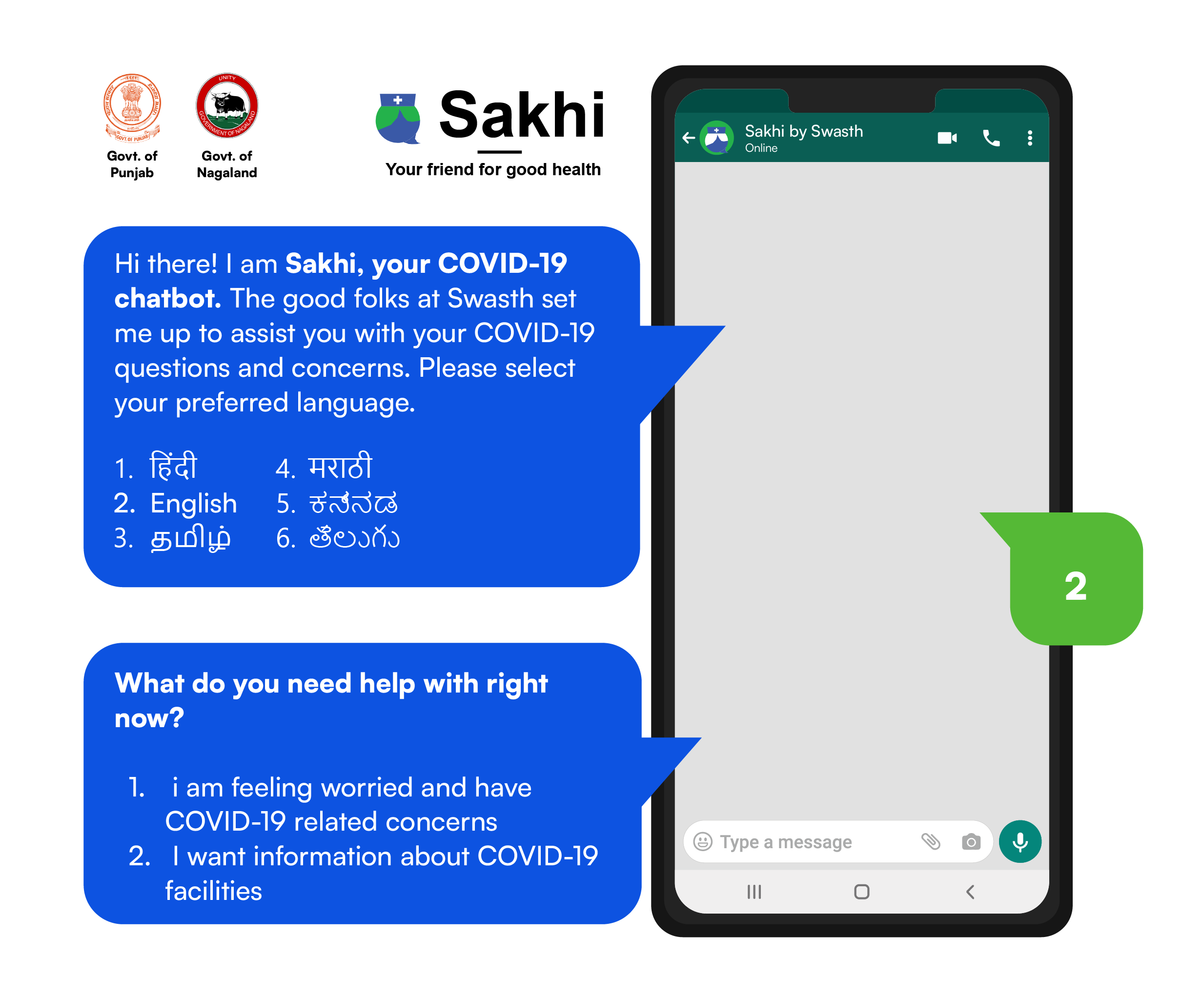 LIFE RESOURCES
With the Coronasafe Network and 130+ volunteers, we created liferesources.in: a pan-India open source repository of oxygen, hospital, ambulance, helplines and medicines, available in 11 languages.
LIFE remains a public resource with a list of verified healthcare service providers. In case of another severe wave, it will be refreshed.
PARTNERS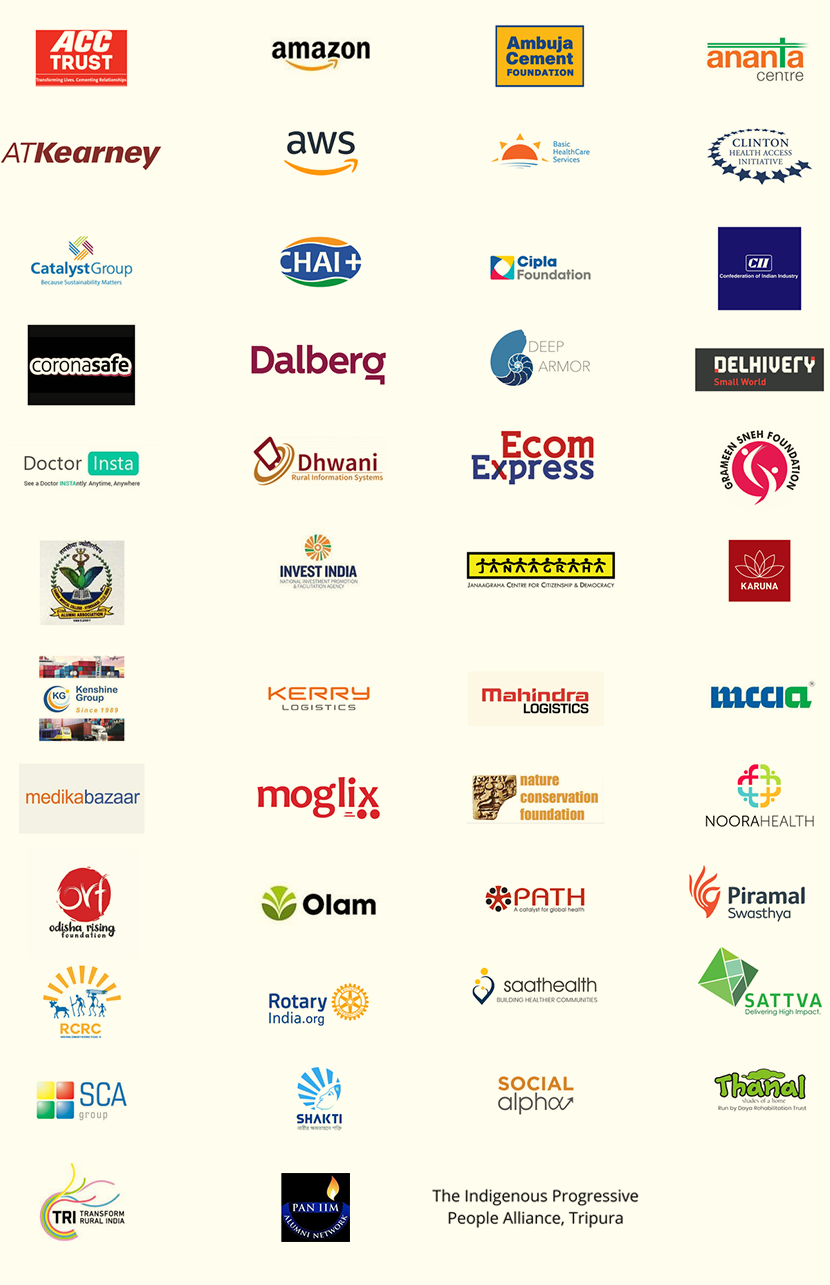 ---
DONORS